2/27/2014 - You wanna know what's weird? Dental insurance, that's what.

Dental insurance itself isn't so weird. That it is needed at all, that is the weird part. Why does medical insurance cover every part of you EXCEPT your teeth? Think about it. Take a basic hot-dip galvanized roofing nail, drive it into any part of your body (except your teeth) and your medical insurance will cover it. Toe - covered. Kneecap - covered, left nipple - covered, scalp - covered. Swallow the nail; shove it up your pooper; poke it in your eye; ram it into your ear and it's all covered. Develop a mental illness that includes a compulsion to mutilate yourself with the nail and/or phobia of the nail, and medical insurance covers your therapy and meds. But if you bite down on that nail and chip your tooth.. oooooo! you need different insurance for that. Those parts are nasty, bitey bits and medical insurance wants nothing to do with them. Seriously? Seriously. Think about it. Weird.
---
12/19/2013 - What has 4 thumbs and a Kickstarter project that met its stretch goal?
Us guys!
---
11/20/2013 - CLICK IT!!!



We just launched a kickstarter campaign for the next Comedy of Horrors Film festival.

Buy a ticket, support the film fest, or simply share this kickstarter campaign with everybody you know.

THANKS!
---
11/2/2013 - I saw someone walking around wearing one of my shirts today. Just walking around free in the wild, like it was nothing. Well, it wasn't nothing. IT. WAS. AWESOME!!

---
10/30/2013 - Remember how last year I told you that your pumpkin sucked, then I pointed you to an awesome pumpkin?

Well, the bar has been raised again.

CLICKITY!

Wow
---
10/20/2013 - I know. I know. Facebook is past tense. But people keep telling me how I need to have a Mightywombat Facebook page. So now I do.

This is more than just another small step towards eventual world domination. I want to use the page to give you a little something extra. I will post cartoons, new and old, and give you a little background on them and how I got the idea. Or how I screwed up the joke. Or how hard it is to draw hands. Why is that so hard? I see my hands all the time. If there is ANYTHING that should be easy to draw, it's hands. Yet I struggle with them as if I am trying to draw some primordial slime demon which can not be seen without inducing madness. Whoa. How did I start with Facebook and end up there. I dunno.

ANYWAY, go check out my new Mightywombat Facebook. I won't just limit it to my stuff. I will post other things that amuse me as well. More content is on the way all the dang time.
---
10/16/2013 - Video game cures AIDS. Well, that might be a SLIGHT exaggeration, but still, this is pretty cool - CLICKITY!
---
10/11/2013 - You can get the new spork cartoon on nepprene lunch boxes, shirts, baby blankets and maternity wear. Check it out!

---
10/9/2013 - Attention, nerds - Full screen, open source (free), Super Mario Bros.

www.fullscreenmario.com

Includes Level Editor and Level Picker / Random Map Generator.
---
10/7/2013 - from xkcd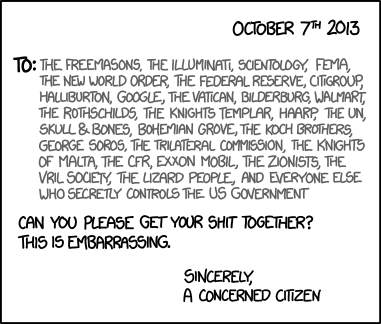 ---
9/30/2013 - It isn't a picture of ALL the big spaceships, but it is darn close. Link goes to giant jpg. Hmm... I don't see Space Battleship Yamato from Star Blazers in there.
---
9/26/2013 - No toon on Mightywombat this week. Sorry. I was going to do one last night, but I had one of those simple projects that got out of control. I ended up just going to bed when it was over. I won't go into the details, but it started with attaching a rack and basket to my kid's bike and it ended with me sawing though things with an angle grinder. I remained clothed throughout the process, so that's good.
---
9/25/2013 - Didja know you can unlock that fancy new iPhone with your nipple? With your cat's paw? With your... other body parts? But not your knuckle.
---
9/18/2013 - DEAR GOD! THINK OF THE CHILDREN!
Culture of Violinzzz
---
9/17/2013 - You ever notice how Fox & the Teatards hate the Nanny State, except for when they are advocating for more intrusive government? Really? You want to tell me how much time I can spend playing a game? Back off.
---
9/17/2013 - So your race car goes bumper-to-bumper at 200 MPH? That's cute. Come on out to the Reno Air Races and tell us all about it.

---
9/11/2013 - One year ago today, the worst year of my life began.

You know what sucks? Having my own personal tragedy on 9 fucking 11. That's the evil twin of having your birthday on Christmas. I hate this day. This day sucks. I want to stab this day in the kidney.
---
9/10/2013 - The new BoneBat Show is UP and it is 90% Gord free. Episode 105: Steve critically hits PAX Prime 2013, and brings back news, reviews and a cool dozen interviews featuring the games Dying Light, Borderlands 2, The Wolf Among Us, Defense Grid 2, Plants vs. Zombies 2, Legend of Dungeon, Deadrock Divide, Loadout, Neverending Nightmares, Code Name Cygnus, BeatBuddy and many more to keep YOU in the know on the next year of gaming goodness, all highlighted by the tremendous music of Michigan's SUPER GUITAR BROS! All this plus "What Pisses Us Off", a fresh salvo of Filthy Jokes, Gord's Political Rant, BoneBat News, and MultiMedia Triage reviews of the films The Way, Way Back and The World's End, the novels Old Man's War by John Scalzi, Lee Child's The Affair, and the Black Library anthology The Mark of Calth, the Netflix series Orange is the New Black, and the Full Control/Games Workshop game Space Hulk, get you to the right castle in this achievement chasing episode 105 of The BoneBat Show!

---
9/6/2013 - Poll: Majority Of Americans Approve Of Sending Congress To Syria
Clickity!
---
9/5/2013 - MEMO to Murderous Dictators

There has been some confusion as to what constitutes "Chemical Weapons." Please use this guide as a reference when killing civilians, rebels, or foreign armies. Failure to use this guide may result in severe sanctions, including, but not limited to: a declaration from the UN, cruise missile strike, drone swarm, US "advisers," police action, undeclared war.

If you you want to...

Kill people with a cloud of gas
Acceptable: gas that catches on fire ( fuel air bomb)
Unacceptable: gas that poisons (sarin)
Please note, it is acceptable to choke people half to death with tear gas and then shoot them

Litter the earth with deadly uranium dust
Acceptable: Depleted Uranium (DU) rounds
Unacceptable: Dirty bomb

Catch people on fire
It is always acceptable to catch people on fire.
Acceptable: anything that blows up
Heavily Frowned Upon: Napalm
Sort of Frowned Upon: White Phosphorus

Thank you
---