7/2/2014 - Wanna see something weird?

A mall was built, but it wasn't up to code. So it was emptied. A fire burned the roof off, then the rain came and the lower level of the mall became a mosquito filled pool. To combat the mosquitoes, locals put fish in the mall. Now there are a bunch of fish swimming around the escalators.

Check it out
---
5/31/2014 - My friend found himself with needing a very specific "thank you" present.

Fact: Hallmark doesn't make a "Thank You" card for a metal-head named "Dave" who helps you out with your kid's production of Annie.

Fact: I can be commissioned / bribed to fill the void left by Hallmark. Check it out -


---
5/14/2014 - Spurious correlations! Everyone who ate carrots on December 16, 1776 DIED!! Data can make your point, no materr how stupid your point is. Data: if you can't fabricate it, correlate it.
Check it out.
---
4/30/2014 - This totally happened. So now I can get back the regular business of cartooning


---
3/30/2014 - Fight the patent trolls. If you know nothing about this issue, then I urge you too learn a bit about it. It is absolutely astounding how literally anybody who does anything on the internet can be sued and/or shaken down for big money. That includes ANYBODY with a podcast, a web site, or an app.

---
3/19/2014 -
---
3/12/2014 - I felt so proud of myself for recognizing a nasty industrial site in Benecia... until I realized that I was feeling proud of myself for recognizing a nasty industrial site in Benecia.

Still... these pictures are pretty impressive to me.

Reminds me of the 99% invisible podcast.


---
2/27/2014 - You wanna know what's weird? Dental insurance, that's what.

Dental insurance itself isn't so weird. That it is needed at all, that is the weird part. Why does medical insurance cover every part of you EXCEPT your teeth? Think about it. Take a basic hot-dip galvanized roofing nail, drive it into any part of your body (except your teeth) and your medical insurance will cover it. Toe - covered. Kneecap - covered, left nipple - covered, scalp - covered. Swallow the nail; shove it up your pooper; poke it in your eye; ram it into your ear and it's all covered. Develop a mental illness that includes a compulsion to mutilate yourself with the nail and/or phobia of the nail, and medical insurance covers your therapy and meds. But if you bite down on that nail and chip your tooth.. oooooo! you need different insurance for that. Those parts are nasty, bitey bits and medical insurance wants nothing to do with them. Seriously? Seriously. Think about it. Weird.
---
12/19/2013 - What has 4 thumbs and a Kickstarter project that met its stretch goal?
Us guys!
---
11/20/2013 - CLICK IT!!!



We just launched a kickstarter campaign for the next Comedy of Horrors Film festival.

Buy a ticket, support the film fest, or simply share this kickstarter campaign with everybody you know.

THANKS!
---
11/2/2013 - I saw someone walking around wearing one of my shirts today. Just walking around free in the wild, like it was nothing. Well, it wasn't nothing. IT. WAS. AWESOME!!

---
10/30/2013 - Remember how last year I told you that your pumpkin sucked, then I pointed you to an awesome pumpkin?

Well, the bar has been raised again.

CLICKITY!

Wow
---
10/20/2013 - I know. I know. Facebook is past tense. But people keep telling me how I need to have a Mightywombat Facebook page. So now I do.

This is more than just another small step towards eventual world domination. I want to use the page to give you a little something extra. I will post cartoons, new and old, and give you a little background on them and how I got the idea. Or how I screwed up the joke. Or how hard it is to draw hands. Why is that so hard? I see my hands all the time. If there is ANYTHING that should be easy to draw, it's hands. Yet I struggle with them as if I am trying to draw some primordial slime demon which can not be seen without inducing madness. Whoa. How did I start with Facebook and end up there. I dunno.

ANYWAY, go check out my new Mightywombat Facebook. I won't just limit it to my stuff. I will post other things that amuse me as well. More content is on the way all the dang time.
---
10/16/2013 - Video game cures AIDS. Well, that might be a SLIGHT exaggeration, but still, this is pretty cool - CLICKITY!
---
10/11/2013 - You can get the new spork cartoon on nepprene lunch boxes, shirts, baby blankets and maternity wear. Check it out!

---
10/9/2013 - Attention, nerds - Full screen, open source (free), Super Mario Bros.

www.fullscreenmario.com

Includes Level Editor and Level Picker / Random Map Generator.
---
10/7/2013 - from xkcd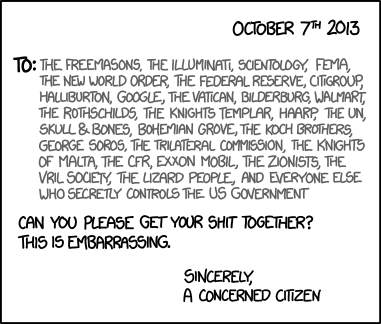 ---
9/30/2013 - It isn't a picture of ALL the big spaceships, but it is darn close. Link goes to giant jpg. Hmm... I don't see Space Battleship Yamato from Star Blazers in there.
---
9/26/2013 - No toon on Mightywombat this week. Sorry. I was going to do one last night, but I had one of those simple projects that got out of control. I ended up just going to bed when it was over. I won't go into the details, but it started with attaching a rack and basket to my kid's bike and it ended with me sawing though things with an angle grinder. I remained clothed throughout the process, so that's good.
---
9/25/2013 - Didja know you can unlock that fancy new iPhone with your nipple? With your cat's paw? With your... other body parts? But not your knuckle.
---